The Content Re-Import feature allows the user to apply revised changes from a Sketch or Photoshop file onto an existing Storyboard application previously created through a Sketch import or Photoshop import.
To use this feature, select the appropriate Re-Import Wizard from the toolbar.
Note
Sketch re-import is only available on macOS.

At the prompt, select the new design file and the existing project, similar to the original import, then click Next.
Note
In the Sketch case, you are asked to select the artboard content that you want to re-import in the same way you did during the original import. It is likely that you will want to select the same content, however that is not required. You can also select a new artboard to import as a brand new screen to add to the Storyboard project.
In the Re-Import Selection dialog, select the relevant changes you want to bring into the Storyboard application.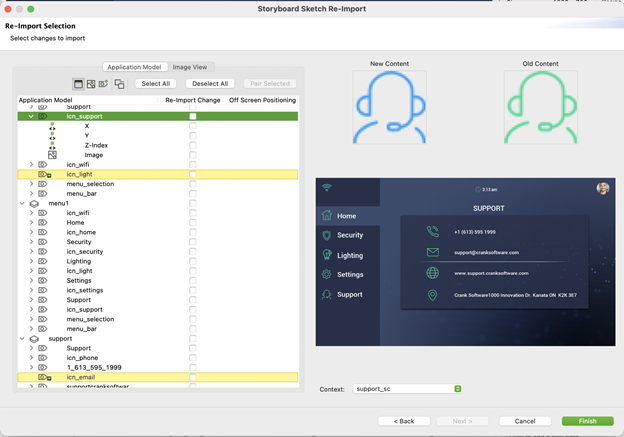 The Application Model tab on the left shows a tree view of all the relevant changes resulting from the new design, including updates to images, text, and positioning. Any existing actions, animations, and variables are omitted from the Wizard so that no existing work or content is accidentally deleted.
The right side shows the new and old content side by side depending on the highlighted selection, and a full screen view of the changes as you apply them in the tree. Added and deleted content is highlighted in yellow, with a + or - icon accordingly.
Review your changes and select the ones you want to import, or click the Select All button to choose them all quickly.
Clicking Finish applies all the changes to the model and the new image content is automatically copied to the images directory.