A common place to start with application development is the artwork and graphics, or the visual content. Visual content for a Storyboard application is typically prepared in Photoshop or Sketch.
The Photoshop import feature provides the ability to use these design files to jumpstart application development.
To use the import feature, select File > Import.

Select Photoshop PSD File and click Next, then select the PSD file that you want to import from the local filesystem.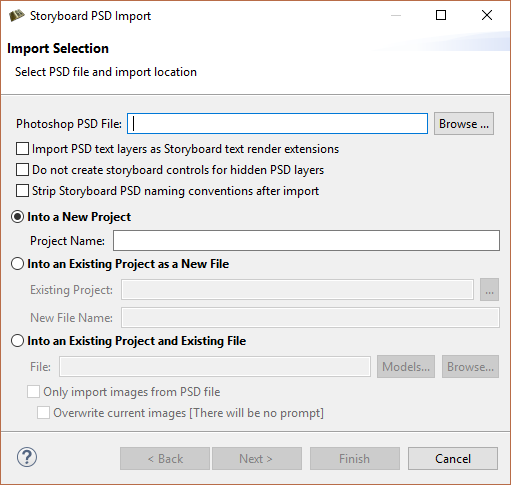 Select whether to import into an existing project or into a new project. You can control how the PSD import is executed by changing the PSD import options.
Once the Photoshop™ file is imported the application opens in the Storyboard editor. The layer information from the Photoshop™ file is maintained, and the layers created as part of the model are automatically included in the Application View as children of the screen(s) that they were associated with or as part of the Unused Layers category for layers that were hidden during the initial import.
The screen with the name of the PSD file that is now a part of the application reflects the last visible state of the file when it was saved and contains those layers that were visible during that editing session.